Film equipment rental in the Caribbean - cameras, lights, grip for Caribbean Island film productions
Equipment rental for film, TV show and video productions in the Caribbean
Digital HD video cameras, HMI lights, audio, grip and photo equipment for Caribbean film and photo shoots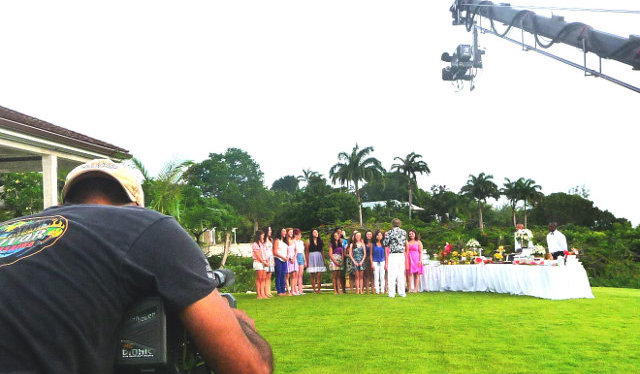 Whenever the Caribbean Production Service Company provides full production support for a shoot, then we organize grip, light, cameras and audio from local or international sources as part of our service. We are not a traditional rental house.
Film equipment, Red one camera (including accessories, lenses and filters) is available on some islands, as well as the newest Sony EX3 HD camera.
Sound equipment, HMI lights in various sizes, tripods, reflectors, dollies, cranes, mounts, 110-240 volt silenced generators, as well as most expendables can be provided locally. Photographic shoots can be supplied with flashlights, batteries, reflectors, stands.
TV commercial, motion picture, video and still productions in the Caribbean region have increased tremendously over the last few years and as a consequence, a whole new infrastructure for media productions has developed on Caribbean Islands.
Below is the basic list with Caribbean film and photo equipment, as well as Miami film rental house links.
Please contact us for special requests, as local equipment stock is continuously updated.
Light, Reflectors, Photo equipment
6K Arri HMI Fresnel / Lenses / Barndoor /
Scrims/Ballast 220 Volt
4K Arri HMI Fresnel / Barndoor /
Scrims / Ballast 110 Volt
1.2K Arri HMI Par / with / Lenses / Barn door / Scrims / Ballast 110 Volt
1.2KW LTM Cinepar HMI (220V 50Hz)
1200 Fresnel ARRI (Electronic Ballast)
575W HMI LTM Ambiarc (220-245V 50Hz)
575 Watt Arri HMI Par / with / Lenses / Barndoor / Scrims / Ballast 110 Volt
4ft x 4Bank KinoFlo W / 5200 / 3200 Tubes 110 Volt
2ft x 4Bank KinoFlo W / 5200 / 3200 Tubes 110 Volt
Arri Tungsten Light Kit W / 2 Arri 650W / 2 Arri 300W 110 Volt
Led Panel
mandarines 800w (tungsten)
mizards 600w (tungsten)
one RING LITE Lite Led Panel

24X36 Lighting Control Kit
4X4 Solid Floppy Flag
4x4 Solid Flag
4x4 Double Net
4x4 Single Net
4x4 Silk
4x4 1/4 Stop Silk
12x12 Silk
12x12 Double Net
42x42 Gold Reflector Board / Hard side / Soft Side
42x42 Silver Reflector Board / Hard side / Soft Side

Photo Equipment
White Lightening X3200 (3200 Watts) 2x
White Lightening X2400 (2400 Watts) 3x
portable batteries
24' x 36" Soft boxes 4x
Large Satin/Black reversible umbrellas 2x
Medium white shoot-through umbrellas 2x
Set of scrims (10°, 20°, 30°, 40°)
Diverse tripods
Honda 3000 Watt generator with heavy-duty extension cables
Grip, Power, Audio
750 Stands / triple riser
C-Stands 40' / Turtle Base
C-Stands 40' / Rocky Mountain
2/5K Medium Over Head Roller Stand / Triple Riser
2/5K Combo Stand
2/5K Junior Lowboy Roller Stand
6' C-Clamp / with 2 5/8' spigots
8' C-Clamp / with 2 5/8' spigots
3' Jaw Cardellini Clamp
Junior Wall Plate
Magic Arms
Telescopic Hanger
8ft Film Air Straight Dolly Track
4Ft Film Air Starter Dolly Track
45 Degree Curve Film Air Dolly Track
Mathews Doorway Dolly / With Bazooka / Dance Floor Wheels / Track Wheels
Apple boxes
12' x 12' Matthews Square Frame / With Ears
6' x 6' Round Frame
FX EZ Jib
Glide Cam
Cam Mate Jib / 25FT Boom / Remote Head
Cartoni Heavy Tripod CS 20
Manfrotto 529B 100mm Hi Hat + Sachtler head
Manfrotto Rolling Spider
1 Avenger Spi( Butterfly) 2M x 2M
1 (butterfly) and reflector 1M x 2M
2 Reflectors 1M x 1M
1 mirror 70cm x 70cm
Flags kits 5 pieces
SandBags
10 x Heavy Stands Avenge / Manfrotto
10 x Medium stands
20 x Extensions AC
1 traveling (light) with 8m of Rails
Power Distro
6X60 Distro Box 300Amp
3X20 Distro Box 60Amp
50ft Joy / Bates Cable
50ft Ac Edison Cable / Stinger
25ft Ac Edison Cable / Stinger
1.0 50M Camlock Cable / 5 Individual cables

Playback Monitor
Panasonic 9" Monitor + SDI (BNC) Cable + light stand
Audio Equipment
5 channel Sound Devices Field mixer
Schoeps CMIT 5u Shotgun Mic / with Boom Pole
Cameras, Filters, Lenses
Red one digital film camera Accessories:
BOMB EVF + 2' LCD Cable + ARM
RED LCD (5.6") + 2' LCD Cable + ARM
RED DRIVE 640 Go + Cable
RED ONE CF module
RED POWER PACK (Charger + 2 Batteries)
And 6 Batteries + Charger
RED CRADLE (for batteries and hard drive)
2 x BNC to DIN 1.0/2.3 cables
2 x Mini XLR + mini to XLR adapters
AC Power adaptor
1 x BASE PRODUCTION PACK
Handles, Mount, Shoulder Dovetail, Universal Mounts,
Steel Rods (2x^", 2x18", 2x 24"), Bolt Set
Red Rock Micro MATTE BOX Red One Bundle
Follow Focus RED ROCK
1 x 4x5.65" 0.6 Neutral Density filer
1 x 4x5.65" 0.6 Neutral Density graduated filter
1 x 4x5.65" circular polarizing filter
1 x 4x4" 0.6 Neutral Density filer
1 x 4x4" circular polarizing filter
Lenses:
RED PRO PRIME T/1.8:
- 18mm, 25mm, 35 mm, 50mm, 85mm, 100mm
and Red Pro lens Compact Case
Sony EX3 HD Camera
with Red Rock Rig and Nikon Prime Lenses
1 – Red Rock micro Matte Box
1- 4x5 .65" 0.6 Neutral Density Filter
1 – 4x5.65" 0.3 Neutral Density Filter
1 - 4x5.65" Polarizing filter
Miami Rental company links
Film equipment rental
http://www.cinevideotech.com/
http://www.budgetvideo.com/
http://www.cameragroup.com/
Photo equipment rental